Best Quality Hammock | Best Sellers
Regular price

$109.99 USD

Unit price

per

Regular price

$133.27 USD

Unit price

per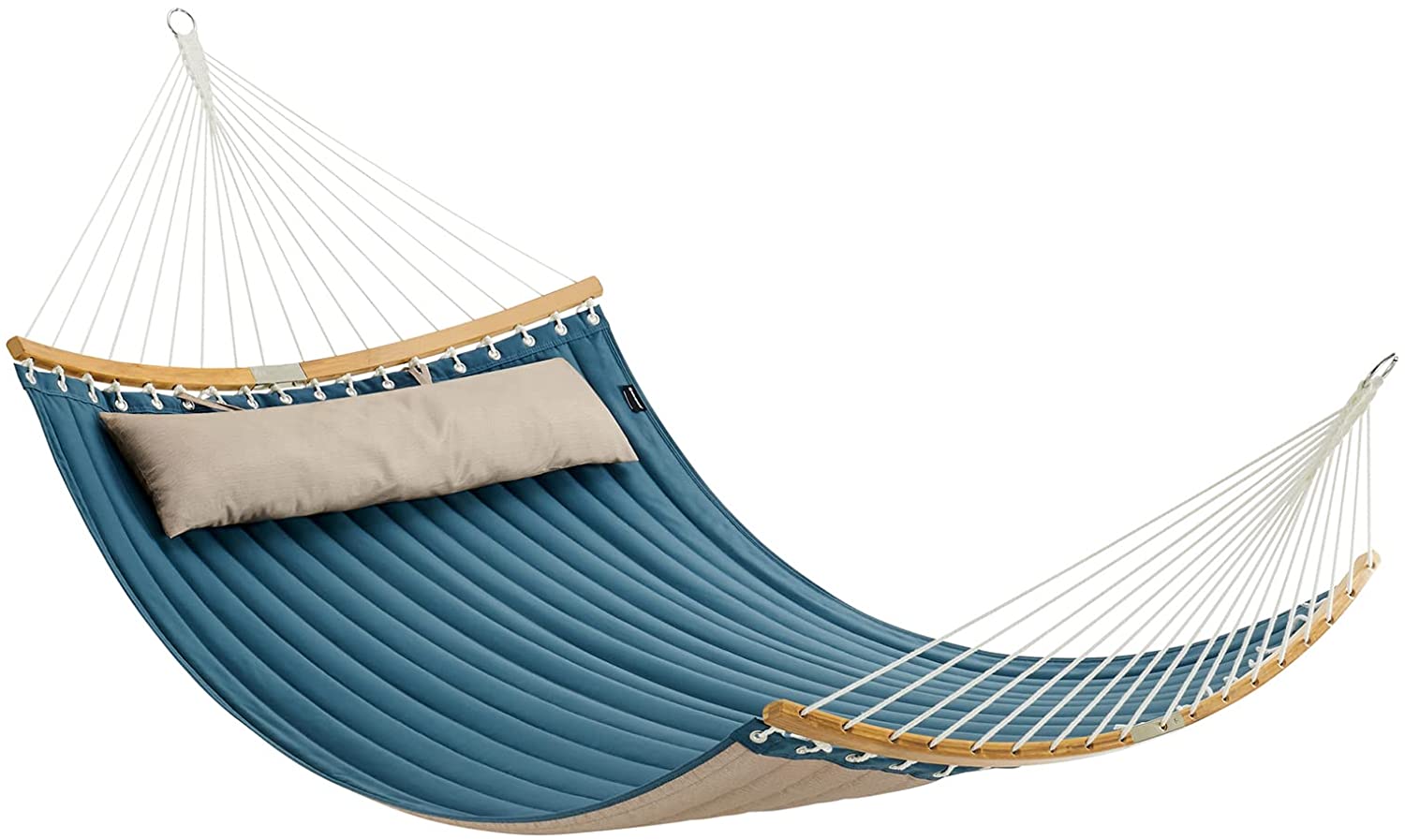 Plan a trip out in the forest with the buddies or going out camping with the family? Thinking about what essentials to take? Worried about how you are going to spend the night? Well, worry no longer! We have the perfect solution to your needs.
Spending time out in the wilderness, you often have to give up on some sort of comfort. After all, you can't just pack your bed up and take it with you. Or can you? You deserve the most comfort and stability both inside your homes and outside and we are here to provide you with nothing short of the best.
Take a look at some of our most lucrative and comfortable hammocks and shop away to your hearts desire. We have a large variety to choose from and you will find the hammock that is just perfect for you.
Best Hanging Chairs
Regular price

$102.80 USD

Unit price

per

Regular price

$1,953.99 USD

Unit price

per

Regular price

$147.99 USD

Unit price

per

Regular price

$1,953.99 USD

Unit price

per
Choosing The Perfect Hammock For Yourself!
There are many different kinds of Hammocks out there. And it is all about choosing the perfect fit for you. Hammocks have different styles and sizes. We have hammocks available for campers, hikers, light travelers or hammocks for home based use. Each hammock is designed to accommodate your needs accordingly. They are easy to set up, easy to pack and are very lightweight and portable.
Here is a few things to consider when getting a hammock:
Size. Hammocks mainly come in to different sizes. Single and double. Single sized hammocks are for one person and double sized can accommodate two.
 Double sized hammocks offer more room and can provide extra comfort for just person as well.
The size of the hammock also includes how long it is from one end to the other because that determines at what height you can it and how much space you need.
Usage. There are different hammocks for different purposes. For example, if you're a traveler, weight matters.
 A lightweight and easily portable hammock is the best fit for you. But if you're looking for a hammock to camp in overnight or to hangout and relax in, durability is key.
Accessories. Each hammock comes with its own accessories to set it up. Such as straps and hooks to install.
 There are different accessories for different purposes, like tree straps for or ropes for hammocks to be used on trees or outside for quick set up and removal.
Some Hammocks come with steel hooks and bars for a more long term use such as in a room or on porch. Additional accessories include things like extra mesh, mosquito nets or overhead, waterproof coverings.
Quality. At the end of the day, quality matters the most. The materials used to make a hammock not only should be comfortable, they should be durable as well. There is no need to compromise on comfort for quality.
Equipment failure can lead to safety issues. So choose a hammock that is made out of durable and comfortable material and is also long lasting.
Best Hanging Pods
Regular price

$129.00 USD

Unit price

per

Regular price

$443.99 USD

Unit price

per

Regular price

$266.00 USD

Unit price

per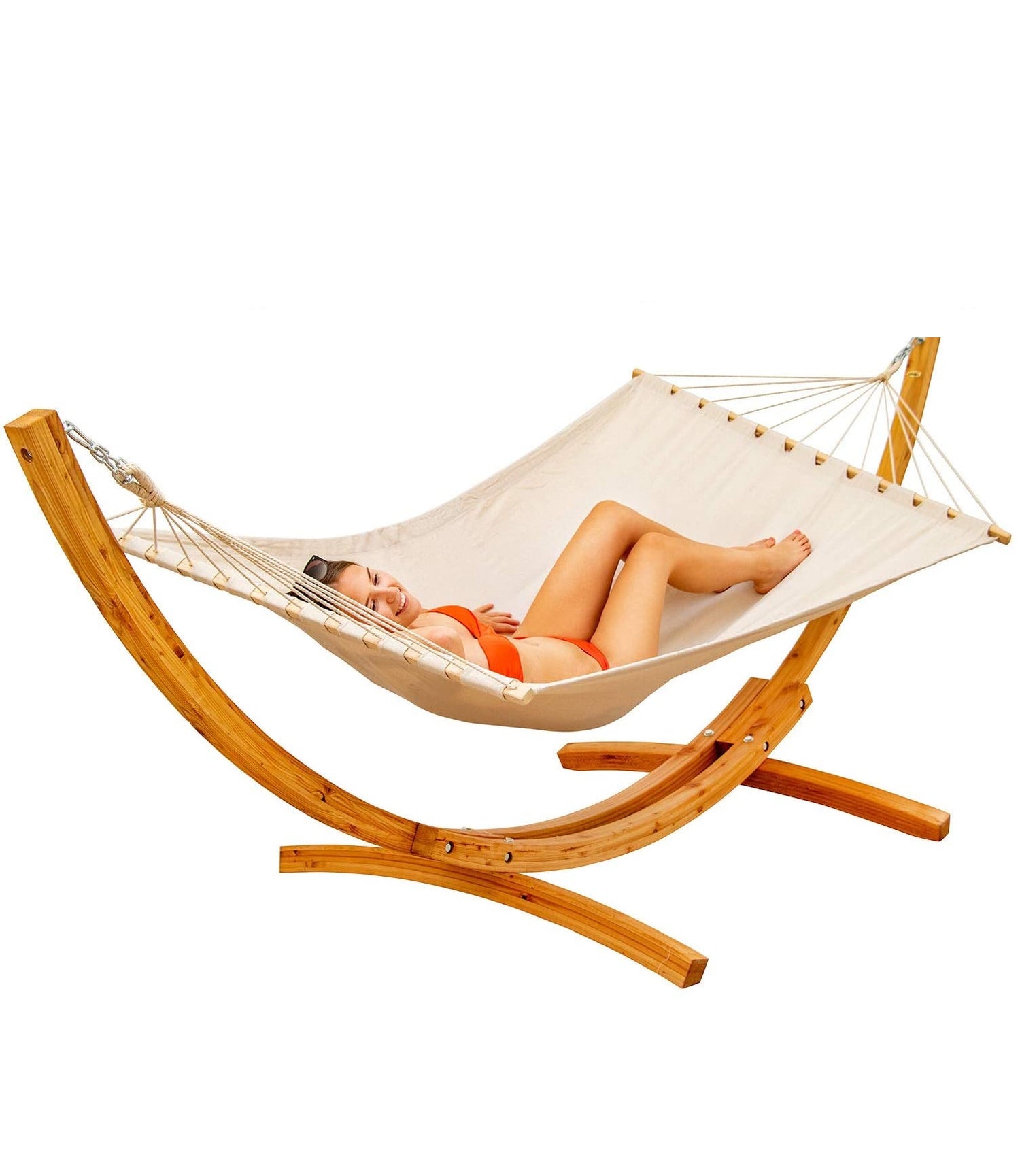 Finding the perfect hammock can take some effort but we have made it much easier for you. Take a look at some of the best Hammocks we have to offer:
ENO Double Nest Hammock
The perfect hammock for campers and travelers alike. It is made out of pure woven nylon which makes it highly durable and long lasting. It is extremely lightweight making it very portable. It comes with a compression bag that you can simply string along on your backpack. It has a carrying capacity of up to 2 adults. Offers maximum comfort and durability for the outdoor conditions.
Vivere Double Cotton Hammock
Made from cotton and polyester, the Vivere double hammock is perhaps one of the most comfortable Hammocks available for personal use, especially indoors. The hammock comes with its own steel stand, carrying bag and a set of instructions to install it. It offers great comfort and durability to the point where it will last you for years to come. It comes with extra cushioning and is well made against wear and tear. Relatively easy to set up in your home or backyard.
Kootek Portable
One of the lightest and the largest hammocks out there. It is very highly resistant and comfortable and can easily be packed up and hung on your back for traveling and hiking. Comes with its own accessories to set up such as steel carbiners and hooks.
Take a look around and shop with us now to get the hammock of your dreams!